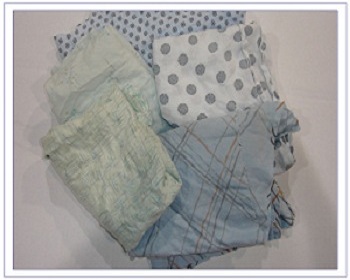 Bulk Rags offer a cost effective solution to any business. These rags are made from recycled or new materials and come in varying shapes and sizes to fit any need you have. Our rags are made from Recycled Garments, recycled linens from commercial laundry services, Mill ends, and Imported second quality towels, diapers, and wash cloths. We can supply you rags to fit your specific needs.
Recycled linens and garments offer a great solution for businesses that need highly absorbent rags for spills and cleaning. They are made of a variety of materials including terry, corduroy, knits, and flannel. Since these rags have been washed many times, they provide high water absorption and can also be used for polishing or buffing. They come in varying sizes from whole items to smaller pieces and shapes.
Mill ends are the pieces of textiles that are left over during the manufacturing process and are made from a variety of fibers from cotton to polyester. Mill ends are the perfect choice for businesses that deal with a lot of grease and oil. They come in sizes from 12 inches to 24 inches and since these are 100% virgin material, they never contain buttons or zippers.
Our Bulk Rags can be ordered in various sizes from 50 pound boxes to smaller 5 pound boxes or bales. We can also supply you with bulk rags in full retail packaging to resell. Please browse through our list below and contact us to place an order.


#01 – 50 lb Box

50 pound box of wiping cloths for industrial and maintenance cleanup

#13 – White Sheet

Wiping cloths of recycled white sheets for cleanup of spills and leaks

#02 – 50 lb Box+Bale

Janitorial supplies and bales of wiping cloths, recycled rags for maintenance operations

#14 – Polo

Cotton rags of used polo material. Janitors rags of natural materials for cleaning services

#03 – 50 lb Bale

Industrial rags, cleanup cloths and recycled wiping cloths sold by the bale

#15 – White Towel Ends

Hotel white towel ends, recycled towel remnants, janitor's supplies and maintenance cleanups

#04 – 5 lb Mini + Bale

Used wiping cloths for industry and maintenace cleanups, bales of recycled rags

#16 – White Sweatshirt

Cotton white sweat shirt materials, cleaning rags in bulk sizes, janitor's cleaning supplies

#05 – 5 lb Mini Bale

Janitoral Supplies, Medical supplies, wiping cloths by the bale, used rags

#17 – New White Knit

Wiper cloths of new white knit, buy rags by the pound for industrial clean ups and spills

#06 – Mini Bale

Bulk rags, used and recycled material for cleaning, janitorial services and maintenance

#18 – Recl White T-Shirt

Recycled white t-shirt, cotton rags in bulk, large quantities of white rags, janitors wiping cloths

#07 – Retail Packaging

Retail Packaging Supplies for Janitors, Maintenance Crews, Hospitals and Industrial Uses

#19 – New Color Knit

New color knit fabric cleaning rags, large quantities of wiping cloths and janitors supplies

#08 – Packaging Options

Packaging Options in Bulk, Janitorial Supplies, Recycled Cleaning Rags

#20 -Color Sweatshirt

Color sweatshirt remnants, used cleaning rags and wiping cloths, sold by the pound

#09 – Huck Towel

Huck Towel ends, cloth remnants, cleaning cloths for industrial use

#21 – White Bedspread

White bedspread cotton pieces make excellent cleaning rags and wipeup cloths

#10 – Corduroy

Used corduroy remnants, absorbent cleaning cloths, cleaning service rags

#22 – Bar Towel

White cotton bar towels for cleaning up spills, leaks and general janitorial cleaning

#11 – Flannel

Absorbent flannel products, used rags for maintenance operations

#24 – Red Shop Towel

Red shop towls – used rags by the pound, cleaning cloths in bulk

#12 – Color Towel

Cleaning cloths of colored towels, whole prices on bulk quantities of cleaning rags

#25 – Soaker

Soaker rags for janitorial industry, maintenance operations and food service