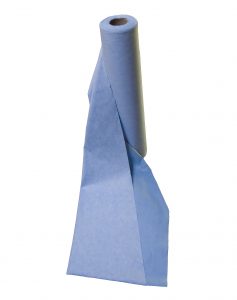 *Vet drape stock #F840 Non Woven Drape Material. This material is heavy duty, autoclavable, and liquid repellent, 100% money back guarantee.
*Packed in 30 to 50 pound rolls and we normally have in stock 24, 38, 48, 60, and 77 inch widths. Specials widths are available if requested; contact us with your requirements.
*Price normally is $5.85 per pound, but sale price is $4.85 per pound, the equivalent of only about 48 cents per square yard.
*Terms: Net 30 days, free shipping and no sales tax.
Veterinarian Customers:
Now available for holding and cutting our Surgical Drape Rolls, this All-in-One Holder and Cutter is available in many different widths. Please call for details: 1-800-779-4040